Welcome to Sue Furlong Music!
Inside you will find a diverse treasure trail of original songs for children and choirs of all ages, stage music/dramas and popular arrangements for all occasions.
Whether you are looking for a Christmas pop song, with ready-made backing tracks already available for instant impact, or a finely crafted part song with either piano or orchestral accompaniment which you can enjoy working on with your orchestral ensemble, your folk group, your community choir, you are sure to find something to enjoy.
The resources you will find at Sue Furlong Music are only a small representation of Sue's creative library, so if you make repeat visits over the next few months, you will find even more new and interesting works.
One such example will be The Voice Thief musical for children,with 8 catchy, and moving songs and a touching script which caught the imagination of a full Birmingham Symphony Hall in 2010.
Sue was an award-winning, published composer/songwriter.  Sadly after a brave fight with cancer, Sue passed away in January 2018.  Her music however lives on and she would want you to enjoy your singing and music making!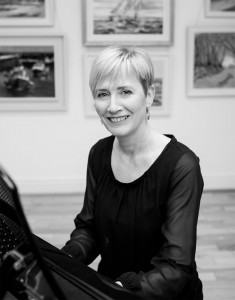 Picture by Paula Malone Carthy